Carrier Oil Variety Set - 4 PACK- 4 oz. Bottles
Item# :
PG_Variety-4-Pack-Carrier_4oz
Availability :
In stock
Free shipping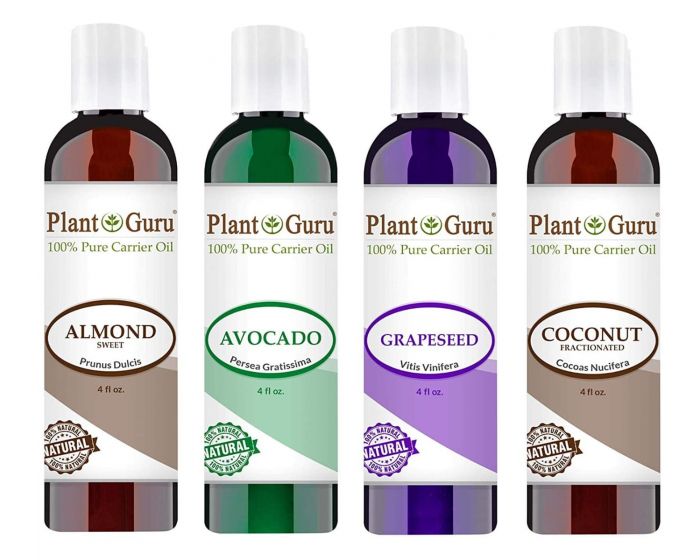 Indulge with this 4 pack of our top selling 100% pure carrier oils. Plant Guru oils have absolutely nothing added and are the highest grade available. Our oils are laboratory tested for contaminants and biologicals and are certified to have no detectable levels of any harmful elements.
Fractionated Coconut Oil: Our Fractionated Coconut Oil has been refined through a chemical free steam process to make it clear, stable, and odor free. This oil absorbs rapidly into the skin, making it the ultimate luxurious massage oil. Our Fractionated Coconut Oil contains absolutely no additional or hidden ingredients whatsoever. It is 100% pure Fractionated Coconut Oil and nothing else.
Grapeseed Oil: Grape seed Oil is known to have number of benefits. This is fine textured oil which has almost no odor of its own and blends well with other oils. This oil is very good for skin toning and moisturizing.
Sweet Almond Oil: Our Sweet Almond Oil is easily absorbed into your skin giving it needed moisture, yet does not clog pores. Sweet Almond Oil is very popular because of it's high concentration of oleic and linoleic fatty acids. Try it as a massage oil and you will love the silky feel! This Sweet Almond Oil has been refined through a chemical free cold press process to make it more transparent, stable, and odor free.